Compassion. Commitment. Excellence.
Family Law & Divorce Attorneys In Virginia
Garriott Maurer provides client-centered legal consultation and representation in all matters pertaining to family law
Family Legal Issues Are Extremely Complex and Sensitive
When emotions run high, you need committed, compassionate counselors by your side
Garriott Maurer, PLLC is a full-service family law firm that exclusively offers comprehensive representation for divorce, child custody, and child support issues. Approaching your disputes with sensitivity and understanding, we ensure you receive the support you need, and the high-quality legal service you deserve during your difficult times.
A Great Team to Guide You
In addition to family law, our attorneys also specialize in civil litigation, property settlement, and criminal law. Whether you are facing a contentious trial or want to settle your divorce through mediation, we will develop a strategy that is right for your particular case.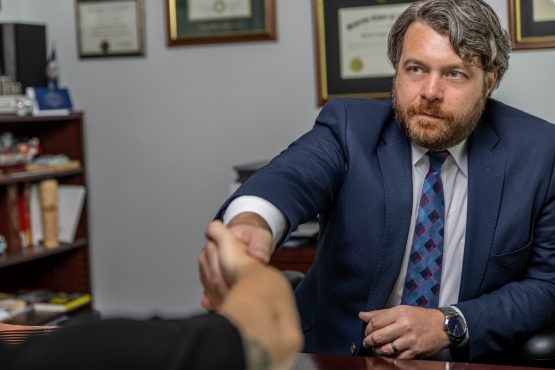 What Our Clients Are Saying
Highly Recommended Professional
Patrick came highly recommended and I was not let down. He handled the very messy details of my divorce stipulation with expert finesse and an in-depth understanding of the challenges I was facing. He approached the entire situation with logic and reason and ensured I understood the best options after all avenues of approach were considered. He is down-to-earth and exhibits detailed understanding for each unique situation. I cannot say enough great things about Patrick, and I highly recommend him to anyone facing any legal actions.
Thorough and Well-Prepared
I have retained Mr. Maurer on two separate occasions. Both situations he was extremely professional, kept me informed of the process and made a strategy to represent me and win. He is thorough with the facts and comes well-prepared to court. He is definitely the attorney you want to represent you when the outcome matters!
Extremely Knowledgeable and Dedicated Professional Staff
Mr. Maurer provided outstanding support over the last three years during my custody, expenses and visitation trial. Extremely knowledgeable with regards to divorce in Virginia - responsive, timely and effective. I am extremely pleased with the outcome of the trial. He works at Pender and Coward as part of a team of three with Richard Garriott and Naveed Kalantar - they were recommended from my previous attorney who became a judge - I cannot thank them enough and would recommend them to anyone who had a contentious or concerned about their divorce or has an issue with custody.
Highly Effective in Handling My Case
I asked a friend, who worked with the Virginia Beach court system, for a recommendation of a family attorney. My friend said the best attorney she has seen in the court is Richard Garriott. Based on her recommendation, I hired Mr. Garriott and have been completely pleased with his work. My case is difficult with several complicated circumstances. He has been able to handle the challenges of our case and he has been highly effective. I have appreciated that he clearly communicates the legal process and our options, and I think he has shrewd judgment. He has a very commanding presence in the courtroom and it seems clear he has the respect of the judge. I am glad to recommend Mr. Garriott to others.
You Will Not Be Disappointed
Mr. Garriott has represented our family for the past 8 years. My husband, and later myself, were awarded custody of my (step) daughters. These were two separate cases, meaning the girls have different mothers. Mr. Garriott was always up front and realistic with us. Later in the case, we were awarded supervised visitation for one of the girls. He was exceptionally professional and always advised us in a way that was best for the children. I would highly recommend him, and have several friends who are faced with custody issues. You will not be disappointed!